Andersons Lodge - Fireside Lodge - Northumbrian Resort
---
Anderson's Lodge
P.O. Box 1058
Sioux Lookout, ON P8T 1B7
Our guest contact phone number is 1-800-465-1098
website www.andersonslodge.com
fax: 807-737-1499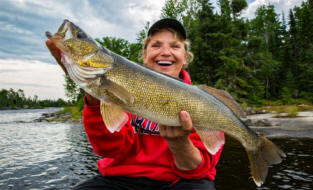 Anderson's Lodge is committed to giving you a quality fishing vacation! You have the choice of fishing on 9 different lakes including Legendary Lac Seul and for 5 different species: Walleye, Northern Pike, Smallmouth Bass, Muskie and Lake Trout. Choose from custom-built 21' Stanley Bowriders or 16' Lunds, either way the fishing is fast and furious.
Featuring all-inclusive American Plan or Remote Fly-In Packages from 3 days to a full week giving you the flexibility for your vacation needs. Enjoy friendly, professional service in clean, first-class accommodations. We will take care of everything on your trip so all you have to worry about is setting the hook! Do it right the first time, call us toll-free today to book your ultimate fishing vacation at 1-800-465-1098.
Hunting!!! Success is what it's all about! The most important objective of our Fall Moose and Black Bear hunts is to give you the best chance at seeing and taking your animal. We have proven this with extremely high percentages in both of our annual hunts. Enjoy our all-inclusive packages featuring full guide service, knowledgeable and professional staff and clean, first class accommodation
---
Fireside Lodge
http://www.firesidelodge.com
Box 218 Sioux Lookout ON P8T 1A3
Phone 800-545-0815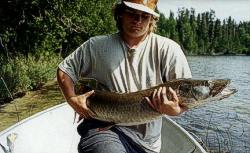 Fireside Lodge is located in Sioux Lookout, Ontario 150 miles north of Canadian U.S. border above the state of Minnesota. Being the only Lodge on a 10 lake system Fireside Lodge offers all guests fabulous sportfishing for Smallmouth Bass, Northern Pike, and Muskie. Three and a half hours from the Minnesota border, Fireside Lodge is road accessible, and is the only resort located on Little Vermilion Lake.
Little Vermilion is the largest in an eleven-lake system. Approximately sixteen miles long, Little Vermillion is a long narrow body of water with a lower and upper section. These spring-fed waters are deep and cold with numerous bays, reefs, and deep weed beds that have created excellent fish-holding structures. The lake forage consists of whitefish, cisco, suckers, perch, various minnow life, and crayfish. With the combination of all these factors, the unpressured-waters of Little Vermilion offers our guests some of the best sportfishing Canada has to offer; year after year. All new natural log cabins are nestled in the trees along the lake front, providing a comfortable home-away-from-home atmosphere for your stay. Lodge rooms also accommodate our guests, each with a refrigerator to store any "goodies" they choose to bring along. Modern bathroom facilities are located in the lodge and in the American Plan cabins to make your stay in the Great North a comfortable one
---